23 Places to Find a Local Videographer in Phoenix
Want to find a local videographer in Phoenix? While this may be overwhelming, you can actually find HD videographers in Phoenix that can provide the kind of support services you need for your brand. If you're looking to hire a Phoenix videographer to work help you with a long project or a shorter one, this list of places where you can find local Phoenix videographers can make it easy to find what you need in South Central Arizona.
Get a Phoenix Videographer quote here!
How Do I Find a Local Videographer in Phoenix?
Finding and hiring a local videographers in Arizona that can help you with everything you need for the production of compelling marketing videos.
To customer testimonials, product demos, tutorials, or even the development of a documentary or live event is all about the places you look in.
A professional Phoenix videographer can bring talent, professionalism, and skill for your project.
It does pay off to hire a pro, but finding a professional videographer with everything you need for your project may prove to be a bit challenging.
ENG or EFP Crew
Whether you need ENG or EFP crew in 85048, a camera operator to guide you to the most captivating spots for filming in Maricopa County.
For a multi-day shoot capturing a live stream in Historic Heritage Square/Avenue 25, it helps a lot to know where to go to find the pros!
That's why with this compilation of a list of places to find a local videographers in Phoenix to get your next project off the ground, you'll be sure to find exactly what you need.
Let's start with a team you know you can rely on: Team Beverly Boy! We really love what we do and we know what to do for every project need.
Beverly Boy Productions can help take away the guesswork from any project.
We are where you can find industry, fully vetted local Phoenix film crews that know Phoenix like nothing else.
If you need help hiring a Phoenix videographer with years on the job, we know what to do for your production needs, so give us a call today. It's as easy as 1, 2, 3.
Reddit is a really popular site for all kinds of open discussions including everything cinema to yesterday's brunch, but did you know that it also has a "for hire" thread?
Searching for Phoenix videographers on Reddit For Hire is as simple as uploading quick thread about the project you've got and waiting for others to participate.
With 52 million daily active users, there's likely a "Redditor" in your area available to help you with your project needs.
At People Per Hour, seeking a Phoenix videographer that can get to work for a set hourly rate is a lot simpler than you'd think.
Buyers post about a project and then wait for freelancers to submit bids. The more details you include, the easier it will be appeal to the type of talent you want to work with.
People Per Hour's artificial intelligence helps you match with the best freelancers for your project so that you get highly targeted professionals that can help with uniquely tailored proposals for your project.
Choose the Phoenix freelancer that is best for your specific project.
Facebook is an ideal place when you want search for local videographers that can help with various projects.
As one of the biggest networks in the world, you'd be surprised at how easy it can be to match with local videographers near you.
With more than 2.85B active users worldwide, finding a video crew in Phoenix, state, is as easy as looking for candidates and posting.
Use Facebook Marketplace to deep dive into local companies and freelancers that are offering videography services that will suit your specific project.
As a very active and large social platform, Facebook is ideal for anything you may need!
5. Personal Recommendations
Word of mouth advertising is an ideal way for you to find local videographers near me.
In fact, personal recommendations can be better than having to looking online to source a Phoenix videographer.
For example, when other business owners share information on acquaintances they've worked with on previous projects, it's easier for you to get a close glimpse at their skill.
It makes it easy for finding choosing a videographer that has the talent you're looking for.
This can help you save time on having to sift through numerous videographers that may not even have the talent you need.
How much Does it Cost to Hire a Freelance Videographer?
Get a Phoenix Videographer quote here!
Videographies.com was designed with the option of providing a list of videographers in Phoenix and connecting media professionals to those who need their services.
With professional videographers from around the global, choosing a local provider is just a few clicks away.
This industry-specific platform helps to take guesswork out of finding Phoenix videographers and is simple to use.
You just have to look for your state and city and you'll be presented with plenty of options to choose from.
A global network for industry professionals who work in video production, Mandy.com is a great starting option if you want to find a videographer in your area.
The Mandy Network boasts of plenty of industry professionals including actors, videographers, and professionals in a variety of production areas.
Connect with plenty of creatives that can help you with your project as you search one of the largest entertainment industry networks.
Greater Phoenix Chamber can help you connect with industry professionals including videographers as well as various other service providers.
Contact the chamber and see if they can help you in the right direction.
Many local videographers have their companies listed in the Chamber of Commerce simplifying things for you as you look for the right option for your project.
Upwork has over 145K active clients and more than 14M total users across more than 180 countries globally.
It's a great place for you to find a videographer that can help you with various project types and styles. Buyers have various options.
They can post something and hope for top freelancers to apply or they can look at the list of freelancers and invite the ones they like to bid.
As a global network, it's easy to find a Phoenix videographer that can benefit you, wherever you may be!
We know it may not always be the most reliable source, but there are many opportunities that can come from Craigslist.
The platform has city specific "pages" for most of the cities in the U.S. and it's where you can find videographers in Phoenix and not have to spend a dime.
As a free resource, there are many candidates posting on there on the daily.
A popular networking site for all things business and job related, LinkedIn is a great place to book a Phoenix videographer that can help you with your filmmaking needs.
It's easy to grow your connections here, and it's also fun and effective. LinkedIn is ideal for building work relationships of every kind.
A social network with global users spanning cities around the world, Instagram is a unique yet easy way to find a local videographer who may be showing off their skills.
You can check out portfolios and find freelancers who are looking for a big break.
When you use hashtags like #Phoenixvideographer, #Phoenixcameracrew, #setlife, to find profiles that offer videography services in Phoenix, it's easy to find what you're looking for.
With over 1B monthly active users, Instagram is popular around the globe.
An event platform that offers full-service booking for various providers, which include videographers and entertainers.
Gigsalad has numerous companies and users that are looking for an opportunity to please.
Find a local videographer in Phoenix that has the skill you need for your film production and also consider looking at the numerous service providers found on this full-feature site.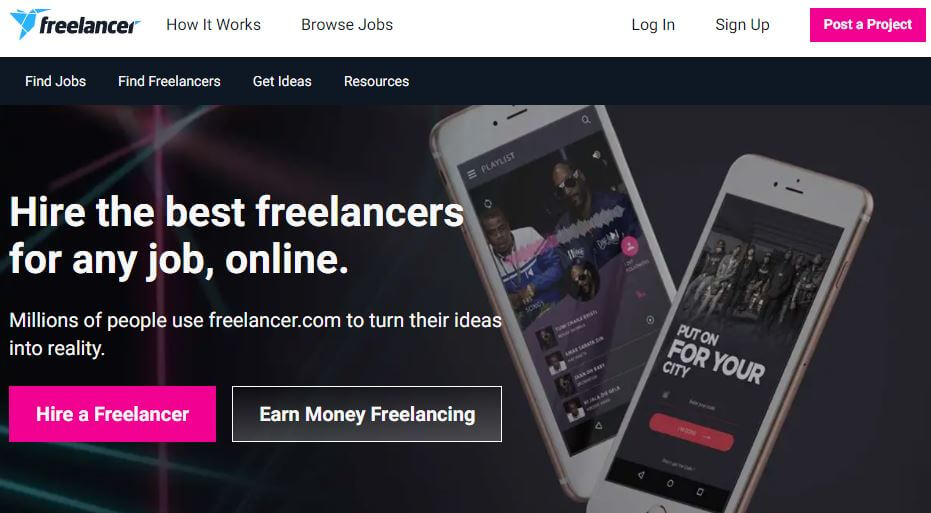 Designed with freelancers in mind, it's no wonder that Freelancer.com is an Australian marketplace that makes it easy for you to find the talent you need.
With a global reach plus thousands of users, it's the kind of marketplace where you can find professionals with all skills you need.
That consist of everything from videography and film editing to animation, graphic design, special effects and so much more.
Finding and hiring Phoenix videographers on Bark.com is simple and free.
A search engine that connects those who are looking for services with those who provide them.
It's the type of site that will make it easy for you to find the perfect option with the professional videography services that are great for your company needs.
A global network of local professionals, BNI is an American franchised networking organization that has over 270K members and more than 10K chapters in more than 70 countries around the world.
Find a Local Videographer through BNI is as simple.
You just look for a local chapter from one of the thousands and ask to join.
Finding event videographers in Phoenix on The Knot is quick and easy.
While it's mostly about weddings, you can actually find a lot of options for videographers who can help you with anything you need for your brand.
Consider The Knot your go-to source for videographers nationwide and look for videographers who can help you with whatever you need, as well as venues and more.

The Wedding Wire is a lot like the Knot as in its geared toward weddings.
You can find professionals ready to help with film production, editing, and videography.
Working with a local wedding videographer to help you capture your project footage is made easy with this site.
A job search engine counts on a variety of videographers for anything you need, from corporate filmmaking to live events, Simply Hired can help you find the help you need for jobs and more.
Just post what you're looking for and you'll be sure to have plenty of professional videographers from Phoenix looking to assist you with your company.
A great place to find a Phoenix videographer, Localgrapher is a top search engine for finding photographers, videographers, and cinematographers that have expertise in the industry.
You'll meet creatives with various skills that are ready to help you with your project, spread across more than 800 locations worldwide.
Trust a local videographer to take care of your film production needs so you can focus on everything else.
At Eventective.com planning your event is easy.
Eventective has a listing of Phoenix videographers, and counts on many other event professionals in the database such as local venues and service providers.
Look for a venue to film at, and review Phoenix videographer pricing, and so much more.
Connecting with videographers at Eventective is simple.
You just pick up the phone and call. Planning a meeting, business conference, party, large gatherings and more is possible when you use this site.
Choosing local videographers on Thumbtack is simple when you put in your zip code and pick the service you need.
Thumbtack has over 250K professionals in various industries offering a variety of services, including videography services in Arizona, it's a great place to shop around.
You'll find out information on a videographer, such as their hourly rates, specialties, and even how Thumbtack clients love what they offer.
A website that is designed for various media professionals, Media Match features a videography database of over 161K media professionals and more than 100K media companies that are available to handle various projects.
You can easily connect with the candidates you need on Media-Match which is a site that has a reach to distant locations like London and Tokyo.
Find a Local Videographer in Phoenix to get started and stay abreast of local industry news with this popular site!
Get a Phoenix Videographer quote here!